Okay, maybe that's just me.
I'm reading this book right now,
Angel Star
by
Jennifer Murgia
. Goodreads gave it a fairly high rating (almost a four!), and I have to admit that the summary is really interesting (I mean really, who could resist angels in a story?) but I'm in a crisis right now.
Sort of.
I'm stuck.
I didn't really expect to get bored with the story. I know that this is a good book, but I am not feeling it right now. Something about it is off, or maybe its just me. I miss that warm, bubbly, nice feeling I get when I read a book, and that's what keeps me going, and its missing right now.
But, being the stubborn me, I'm determined to finish this before I switch over to another book. So I'm taking a break in reading, for now.
Anyway, enough about my dilemma for now. I have a reason to be happy. :)
I got invited to a Twitter Book Launch Party! Hooray! I feel so special!
Emma Michael's going to release her book,
The Thirteenth Chime
on the 13th of August, and in celebration for the release, they organized a Twitter Party! I am participating, so you guys should too!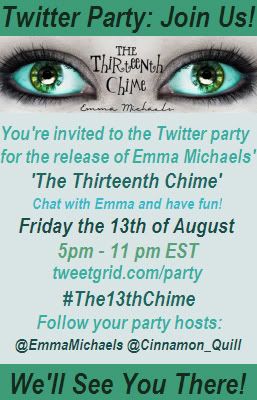 I'm pretty excited to read this book, actually. I can't wait for the release. It's going to be my first Twitter Party of any kind so I'm really psyched about this.
Everyone, if you can join, please join! Let's support Emma and her first book!