Hello world!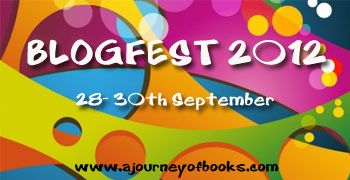 I'm finally participating on BlogFest 2012! I've been wanting to participate on this for years, but I always miss the sign-ups. Well guess what? Not now! I'm offering 2 giveaways for this, one open
INTERNATIONALLY
, one open to
PH ONLY
.
Note: If you are from PH, you can enter both contests.
International:
Want your own copy of Julie Kagawa's The Iron Legends?
a Rafflecopter giveaway
PH Only:
You can choose ONE from these:
Defiance by CJ Redwine
Rise of Nine by Pittacus Lore
Eve by Anna Carey (signed)
Liberator by Bryan Davis (ARC)
Aldo's Fantastical Movie Palace by Jonathan Friesen (ARC)
Carrier of the Mark by Leigh Fallon (ARC)
Beautiful Chaos by Kami Garcia and Margaret Stohl
Graveminder by Melissa Marr
a Rafflecopter giveaway
You might want to check out these other blogs:
For the complete list of the participating blogs for this year's BlogFest, visit
A Journey of Books
. Hop on to each blog and you can win A LOT of prizes. And hey, I heard there's a real MASSIVE giveaway going on there as well. :)
Enjoy hopping!